Not just a better way to pay...
Zapper makes it quicker and easier for your customers to pay for their meals. But besides a great customer experience, Zapper also helps increase revenues at your restaurant through greater efficiencies and targeted promotions.

Zapper allows your customers to pay using their smartphone without having to call the waiter back to the table. Zapper even supports splitting the bill.

Customers scan the QR code on their bill with the Zapper app to pay instantly. They get an immediate notification of successful payment, and so does the restaurant.

Wait-staff have more time to provide excellent service, tables turn quicker and your customers are happy for the convenience.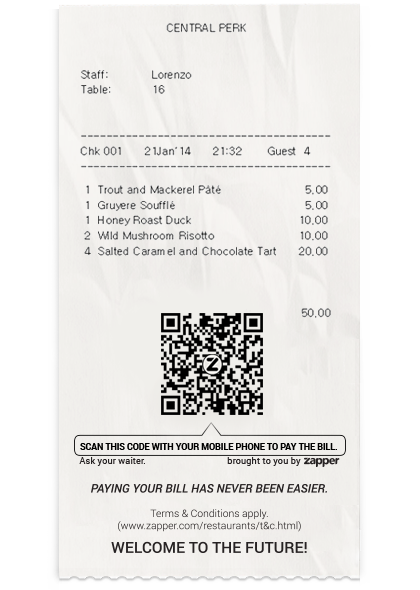 So how does it work?
Zapper's light-touch solution fits seamlessly into your existing POS system. A Zapper QR code gets added to your paper bill. Your customers can then Scan, Pay and Go!
Both you and your customer get notified instantly of payment success and they are free to leave.
If required, Zapper can allow customers to leave a tip for service. There is also a handy feature to make splitting the bill quick and simple.
The benefits of Zapper do not end when the customers leave. Zapper's merchant portal and CRM provides useful analytics and can be used to drive further custom.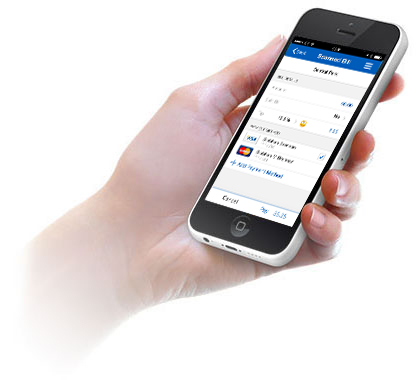 Where is Zapper for Restaurants available?
Zapper for Restaurants is available in the UK, Australia, France, Spain, Belgium, the Netherlands, South Africa and Sweden and will soon be available in Germany.
Watch how zapper works
See how Zapper works for Restaurants.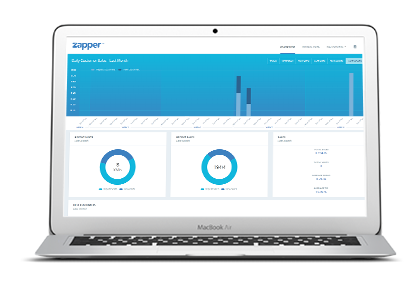 Smart Insights
Zapper includes an online dashboard and CRM. This allows you to select the services you need, monitor activity and reconcile payments. You'll have a crystal clear insight into everything that's going on. We will also keep you 100% up-to-date with all the latest information on new products and additional services.